Handled Stainless Steel Scrubber:
This is an improved stainless steel cleaning tools with handles, ideal for removing stubborn stains from food processing hardwares. The brush scourers are designed with two parts: the cleaning pad and the plastic handle. The metal cleaning brush type scourer can be supplied with stainless steel cleaning pads and galvanized carbon steel balls.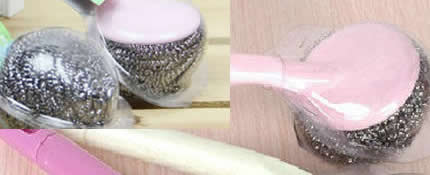 Brushing wire details :
1) Grade: 410 stainless steel wire
2) Standard: AISI, ASTM, EN,DIN,JIS
Cleaning Balls:
1, Various styles, monofilament single ball, double wire single ball, multi-wire single ball, double wire double ball, multi-wire multi-balls.
2, The standard stainless steel wire and high zinc wire offering non-stick oil, no rust, clean and bright, soft and flexible.
3. The cleaning ball has strong antibacterial effect, inhibiting reproduction stench of mold and other causes, do not pollute the environment.
4, Spiral structure against stubborn stains. No litter, do not hurt the hand, does not damage the object surface, long-term repeated use.
5, Widely used in homes, hotels, restaurants backboard clean dishes, as well as stoves, cooking utensils and other greasy, and industrial and building dirt clearing.
Plastic Handles: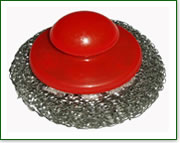 Different colors and sizes for your choice.
Strong and durable.
Easy to clean and dry.
Popular SS Brush Products:
-Weight: 35g/each unit
-Stainless steel weight: 25g/each unit
-Handle color: yellow, green, red, blue, black, white etc.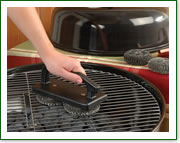 Features :
1. Stainless and without rust; anti-mildew and anti-bacterial
2. Spiral design, secure and won't hurt your hands
3. Dry quickly and lasting
4. Effective to clean away the stubborn stains
5. Ideal for: fry pans, kitchen utensil, stove, BBQ rack and other
ware with tough dirt
Use the Metal Wire Brushes Correctly:
1. Rinse thoroughly with water before and after using it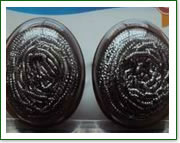 2. With detergent, the cleaning effect is amazing
3. After use it, keep it clean and dry
[Packing for Bulk Order]
-CTN size: 680x460x350(H)mm
-Qty/CTN: 500pcs/ctn
-Ctn Qty/20' container: 268ctn
-Ctn Qty/40' container: 540ctn