Stainless Steel Wire for Scrubber Processing: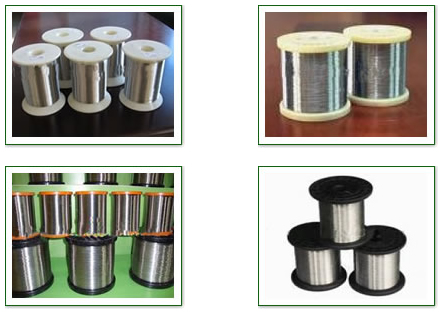 Stainless steel wire has three grades: 200 series, 300 series, 400 series. The different grades of ss wires enjoy various functions and costs. Stainless steel wire AISI 410 is suitable for scrubber wire processing, 304 and 316 mainly used for weaving wire mesh while wire 202 for metal Hose wire.
400 Series Stainless Steel Wire for Scrubbers:
Standard: AISI, ASTM, EN,DIN,JIS
Wire Diameter: 0.02-5.5mm
Surface: bright
Type: spring, soft and hard
Packing: in coil or in spool then in carton or as your request
Features:
1. Excellent straightness.
2. Uniform and beautiful surface condition.
3. Excellent coil-forming ability.
4. High elasticity and high fatigue resistance.
5. Strong corrosion resistance against exposure to the toughest atmosphere.
The stainless steel scourer S.S 410/430 is made of the gauge wire ranging from 0.11mm~0.13mm.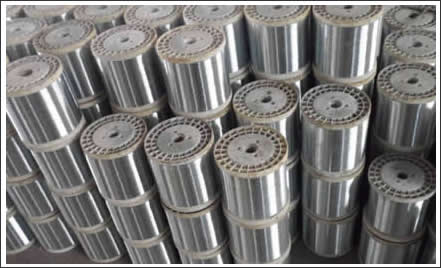 Stainless Steel Wire Specification:
| | | |
| --- | --- | --- |
| Wire Diameter (mm) | Allowed Difference (mm) | Max. Diameter Difference (mm) |
| 0.020-0.049 | +0.002 -0.001 | 0.001 |
| 0.050-0.074 | ±0.002 | 0.002 |
| 0.075-0.089 | ±0.002 | 0.002 |
| 0.090-0.109 | +0.003 -0.002 | 0.002 |
| 0.110-0.169 | ±0.003 | 0.003 |
| 0.170-0.184 | ±0.004 | 0.004 |
| 0.185-0.199 | ±0.004 | 0.004 |
| 0.200-0.299 | ±0.005 | 0.005 |
| 0.300-0.310 | ±0.006 | 0.006 |
| 0.320-0.499 | ±0.006 | 0.006 |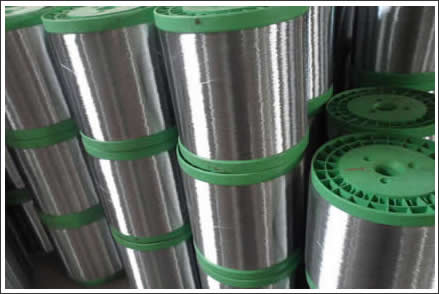 Chemical composition of stainless steel wire materials:
Type AISI
C Max %
Mn Max %
P Max%
S Max%
Si Max%
Cr%
Ni%
Mo%
201
0.15
5.50-7.50
0.06
0.03
1
16.000-18.00
0.5
-
202
0.15
7.50-10.00
0.06
0.03
1
17.00-19.00
3.-0-5.00
-
204CU
0.08
6.5-8.5
0.06
0.03
2
16.0-17.0
1.5-3.0
-
302
0.15
2
0.045
0.03
1
17.00-19.00
8.00-10.00
-
302HQ/
0.03
2
0.045
0.02
1
17.00-19.00
9.00-10.00
-
304CU
304HC
0.04
0.80-1.70
0.04
0.015
0.3-0.6
18-19
8.5-9.5
-
303
0.07
2
0.045
0.25 Min
1
17-19
8.0-10.0
0.6
304
0.08
2
0.045
0.03
1
18.00-20.00
8.0-10.50
-
304L
0.03
2
0.045
0.03
1
18.00-20.00
8.00-12.00
-
310 S
0.055
1.5
0.04
0.005
0.7
25.0-28.0
19-22
-
314
0.25
2
0.045
0.03
1.50-3.00
23.00-26.00
19.00-22.00
-
316
0.06
2
0.045
0.03
1
16.00-18.00
10.00-14.00
2.00-3.00
316L
0.03
2
0.045
0.03
1
16.00-18.00
10.00-14.00
2.00-3.00
316Ti
0.08
2
0.045
0.03
0.75
16.00-18.00
10.00-14.00
2.00-3.00
347
0.08
2
0.045
0.03
1
17.00-19.00
9.00-13.00
-
321
0.06
2
0.045
0.01
.40-.60
17-19.00
9.4-9.6
-
ER308
0.08
2
0.045
0.03
1
17-19
9.5-13.0
-
ER308L
0.025
1.50/2.00
0.025
0.02
0.5
19.0/21.0
9.5/11.0
-
ER309
0.08
1.50/2.50
0.02
0.015
0.5
23.0/25.0
20.0/14.0
-
ER309L
0.025
1.50/2.50
0.02
0.015
0.5
23.0/25.0
12.0/14.0
-
ER316L
0.02
1.50/2.00
0.02
0.02
0.5
18.0/20.0
12.00-14.00
2.00-3.00
430L
0.03
1
0.04
0.03
1
16.00-18.00
-
434
0.08
1
0.04
0.03
1
16.00-18.00
-
0.90-1.40